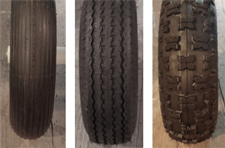 Wheelbarrow wheels are available to fit on most axle sizes. Bearing options may improve performance and lifetime of wheel.
Various tread options include ribbed, sawtooth, and knobby; to best suit the expected conditions in which the wheelbarrow will be used.
Wheelbarrow tires in solid, semi-pneumatic, and pneumatic styles. Flat Free models for relieving on-the-job stress.
Call Now To Order Wheelbarrow Tires: 1-800-215-8220
Tip: To place an order, have the wheel hub length, bore size, and tire size measurements on hand.